Importance of Hands-On Learning
Our Mission
Pitsco's mission statement is clear: Leading education that positively affects learners. That's a statement we truly believe in and what motivates our employees every day. From a small beginning in 1971, starting with three teachers in a garage, Pitsco has grown into a company that serves three million students worldwide every year. It's truly an American success story!
Our History
Our founder and CEO, Harvey Dean, was the student who needed to be actively engaged in his learning. He then became the teacher who enabled his students to create, tinker, build, and experience the content rather than memorize it. This is the core reason why hands-on education has always been our focus. All Pitsco STEM solutions are hands on. STEM is content in motion. It's creativity, critical thinking, communication, grit, and persistence, fueled by daring to fail in order to succeed. For nearly 50 years, Pitsco has seen the effectiveness of hands-on learning and the engagement it brings to students. Even though times are changing, the power of hands-on learning has not diminished.
The Challenges of Teaching in 2020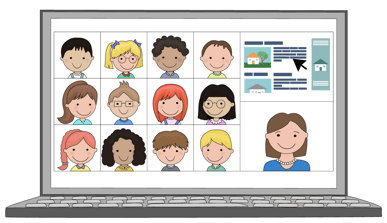 As of August 2020, the COVID-19 pandemic has changed many aspects of "normal" life. Education had to pivot from an in-school setting to a remote online setting, which exposed gaps in student learning opportunities. A spotlight has been shown on educational inequity, access to educational technology and Internet is an issue, and the list goes on. There have been a multitude of discussions and proposed plans to address the upcoming school year, but the three-tiered approach has emerged that is almost universally being implemented in all states – face-to-face, blended, and remote online instruction.
There are no doubt challenges associated with each of these approaches, but hands-on learning can play a major role in solving these challenges. Pitsco knows the power of hands-on learning, but research also supports this method. Studies have found that students who don't experience hands-on learning are 1.5 times more likely to fail a course than students who experienced hands-on learning opportunities.
The Benefits of Hands-On Learning
Hands-on education gives students choices by providing the freedom and creativity to solve problems in a manner they've designed and choose to implement. Hands-on learning increases students' responsibility to learn by having them engage in an authentic experience rather than only listen to a teacher lecture about a concept. Hands-on learning better engages the brain. When students are involved with tactile or kinesthetic learning, both hemispheres are required to process the information. As a result, students overwhelmingly recall a hands-on learning experience versus a traditional teacher-delivered lecture. When the hands-on activity is authentic, it also opens the doors to careers associated to that activity. For example, in a bridge building activity, students aren't just introduced to the concepts an engineer would be responsible for but also act as the environmental scientist who performs the impact study of the bridge.
Hands-on experiences create student-driven learners who become self-directed workers. A hands-on activity is, by design, student centric and not teacher directed. In that environment, the teacher becomes a facilitator of learning and supports and guides students as they strive to complete the task. Employers increasingly want employees who demonstrate initiative and skill when communicating, working collaboratively, and creatively solving unexpected problems. The ownership students take over their projects in school is the foundation for the ownership they will take over their projects in their careers.